WELCOME TO HOLLYWOOD HEIGHTS WIKI
This is a wiki about the Hollywood Heights TV series that anyone can edit!
171 articles since March 29, 2012
ABOUT HOLLYWOOD HEIGHTS
Loren Tate (Brittany Underwood), a smart, shy and independent high school senior who has ambitions of being a songwriter, secretly sends her song lyrics to her celebrity crush, rock superstar Eddie Duran (Cody Longo). Loren's wildest dreams come true when she not only wins a songwriting competition sponsored by Eddie, but strikes up a friendship with her idol. Eddie sees beyond Loren's potential as a songwriter and gives her a first break as a singer, and when the truth about his less-than-faithful girlfriend Chloe Carter (Melissa Ordway) is revealed, Eddie and Loren's friendship blossoms.
FEATURED EPISODE
Season 1, Episode 40 - Their Special Place: Chloe taunts Loren then Eddie takes Loren to another special place and they kiss when he drops her home. Jackie finds Chloe overdosed on the floor. Phil and Adriana talk about their future. (Read more...)
FEATURED CHARACTER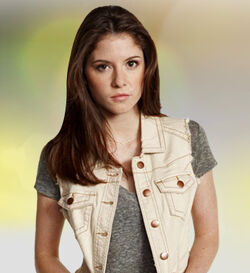 Loren Tate is an 18-year-old straight-A student who spends most of her time hanging with her best friends, Melissa and Adam. She has a passion for songwriting, and is inspired by her musical idol, Eddie Duran, whom she has is currently dating. Loren's down to earth and low-key personality is everything that her soon-to-be world of fame is not! She's very shy at first, but becomes more confident as time goes on.
Loren is generally caring towards others. She is a good friend and daughter, even willing to get over the fact that her mother is dating her enemy's father. She is a little shy towards certain people, especially ones she doesn't really know. Loren has really bad stage fright which sometimes prevent her from performing, but she is learning to deal with it with the help of her idol Eddie Duran. Loren is shown to be very friendly toward anyone - even Chloe. Though the latter turned around and was very rude and quite snobby back, Loren still was show to be very friendly and never once has tried to bad mouth Chloe to Eddie.(Read more...)
LATEST ACTIVITY


Community content is available under
CC-BY-SA
unless otherwise noted.